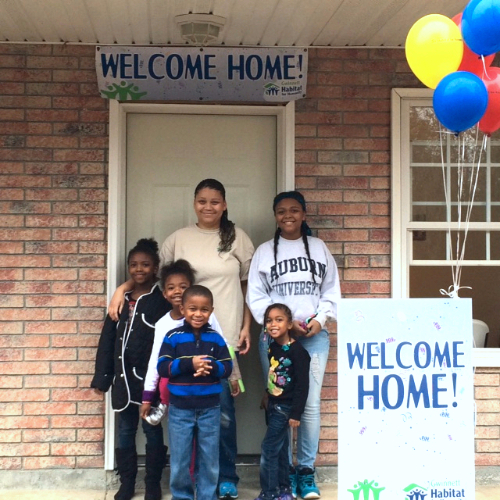 The Journey
At Gwinnett Habitat for Humanity, we believe everyone deserves a decent, affordable place to live. We build homes with hardworking, low-income families and then sell the homes at no profit with affordable mortgages to the Habitat families. Families in need must meet certain income and credit qualifications, attend homebuyer education classes to prepare them to be successful homeowners, and contribute 250 sweat equity hours. It is hard work. But, it sure does pay off! Our familes give us and our community hope. Together, we build a better Gwinnett.
The Need
The dream of homeownership is something that is out of reach for many low to moderate income families in Gwinnett County Georgia.  Families making less than $40,000 find it difficult to find adequate, affordable housing in our community. It is estimated that there is a housing deficiency of 40,000 units in our county for people earning less than $40,000 per year.  A household is considered to have a significant housing cost burden if it spends more than 30 percent of its income on housing costs, including utilities. A recent study finds that 53 percent of low-income households are housing cost-burdened.
A full-time job (or two) might not be enough for a family to afford a decent place to live. Virtually nowhere in the U.S. can a full-time minimum-wage employee afford a one-bedroom apartment. According to the National Low Income Housing Coalition, even two such jobs won't rent a two-bedroom apartment in 29 states and the District of Columbia. (In California, three won't. In Hawaii, four.)
The Impact
This is why we build. Gwinnett Habitat for Humanity proves that decent housing can be a path out of poverty for families in need of a hand-up, and every day, you help us partner with families in our county.
We believe that no family should have to raise children in unsafe, sub-standard conditions and that hard-working families deserve a chance to become homeowners through a hand up rather than a hand out.  It can change everything for a family. Children feel free to bring friends home to play, their grades improve and the opportunity for college becomes a reality. Instead of worrying about housing, families begin to consider college education for their children, employment training for themselves and have time to volunteer in their neighborhood organizations. Habitat homeowners become taxpaying neighbors who value their homes and their neighborhoods. Perhaps the greatest benefit of homeownership for these families is that a home equals hope: hope for a better life, hope for self-sufficiency and hope for a bright future for the children.  You can look around our communities and see families who have been impacted by Gwinnett Habitat. Working together with donors, sponsors and volunteers, we help make the dream of homeownership become the reality.