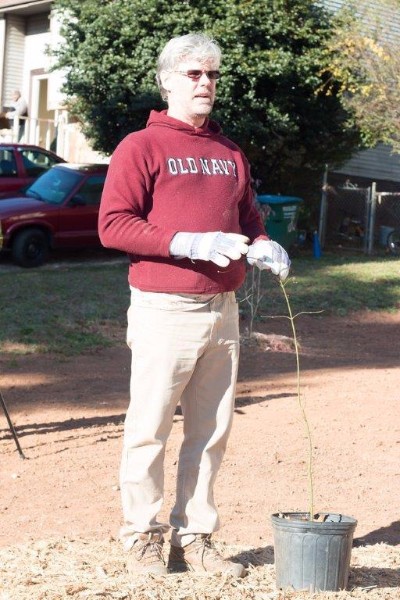 Barrie Steele, a Landscape Designer and Horticulturist, who founded Plant Rescue of Georgia, has teamed up with Gwinnett Habitat for Humanity.
After seeing so much beautiful plant life thrown away, Barrie Steele decided to find "homes" for the plants he rescues.  We spent some time with Barrie finding out how he found a variety of homes for his plants.
Gwinnett Habitat for Humanity (GHfH):  How did you get involved with Plant Rescue?
Barrie Steele:  I started this about 25 years ago when I was working at Chateau Elan Winery and Resort.  During a renovation we removed so many plants that I redesigned areas to repurpose the plant material.  I was happy the plants were not trashed and the owners saved money! Win, win!  So two years ago I started looking for projects that could use repurposed plant material. 
GHfH:  Where do you get your plants?  How do you know what to accept?  And where do you keep them until they get recycled?
Steele:   Nurseries, homeowners, landscape companies and other architects contact me. We have extensive knowledge in plant design and about plant material and know what is worth keeping and what is not.  We currently have a temporary location to keep all the donated plant material for use with Habitat and other non-profits.
GHfH:  How did you get involved with Gwinnett Habitat? 
Steele:  A couple of years ago I volunteered with 12 Stone Church on a home build and have been involved since.   When I first started I saw that there was a need to beautify the front of the homes with plant material and hardscape material that are often not included in the build costs.  This just seemed like the perfect place to use Plant Rescue material.
GFfH:  Why do you keep volunteering?  What do you like best about the builds?
Steele:  The best part is the dedications!  You see how the homeowners feel when they get a home.  Corporate and high school volunteers are awesome.  I love to teach the volunteers on site about correct planting design procedures.  It is so hands on and everyone has a great time.
GHfH:  Tell us a story about the volunteers you have worked with.
Steele:  I love the high school Habitat Club kids!  They have so much energy and drive to help out the community and are most amazing.  They sign up on lists at school.  The list is tough to get on because it is always full.  I give credit to the parents who work hard to build their children's character by teaching them to volunteer.  We love to teach them how to properly design and install the plants.  They are all eager to work and do a phenomenal job. 
GHfH:  Tell us a story about a homeowner you have worked with.
Steele:  I was overwhelmed one day when we just finished landscaping the front of a home.  The wife was just coming down the street.  When she saw how beautiful her home looked she had tears in her eyes.  She was so proud of it. 
GHfH:  We understand that at each home dedication a red Japanese maple tree, donated by Harold and Janis Kirtz, is planted in the front yard.  How did they get involved with Habitat?
Steele:  Harold and Janis hired me to design and landscape their property.  On their property they have this beautiful large red Japanese maple that produces many baby seedlings and I thought these seedlings would be a great compliment to the family dedications as a living legacy.  As they found out more about Plant Rescue and my work with non-profits they wanted to help.  They cultivate their seedlings and pass them on to me to use for these home dedications.  They are an amazing couple and are so supportive of these projects.
GHfH:  What other non-profits have you worked with?
Steele:  We'll be doing a subdivision with Hall County Habitat for Humanity.  I'm looking forward to not only landscaping the homes but also planning and then working with the Habitat volunteers to install the plants for the green spaces of the subdivision as well.  We are currently designing and installing a park area for the Southeastern Railway Museum in Duluth.  We have worked with another non-profit, Beat the Streets, to help in designing vegetable gardens for the Salvation Army and a rooftop garden for a homeless shelter (Peachtree and Pine St. in Atlanta).  Everyone is so appreciative of the opportunity to volunteer, and learn how to grow and care for their gardens.
GHfH:  What are your plans for the future?
Steele:  It's all in God's hands and He's guiding me to look for more plant material.  We desperately need more plant material because of many needy projects that have little to no money but have many volunteers to help.  Importantly we don't need perfect plants.  Our "green thumbs" and determination will make the difference.