The Rem/Cer Family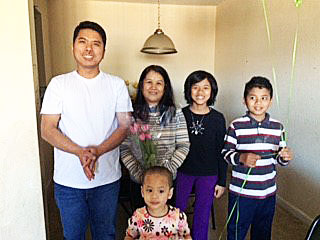 Meet the Rem/Cer Family, Lal and Hlawn.
Lal (who goes by his last name, Rem) and Hlawn are the parents of 2 daughters and 1 son, Dawt (11), Genevieve (3), and Thawng (10), respectively. Rem, Hlawn and their 2 older children came to the U.S. as refugees from Burma in 2011.
Rem has been working as a Master Packer at Tyson Foods since a few months after their arrival. Hlawn is not employed, but stays home to care for their children. This family of 5 lives in a 2-bedroom apartment; the youngest daughter shares a bedroom with her parents, while the 2 older children share the other bedroom. Their limited family income restricts them from being able to afford a larger apartment. One of their gravest concerns is for their children's safety, due to the reported presence of gangs at their school, which is across the street from their apartment complex. They are very ill at ease in allowing the children to play outside.
Rem and Hlawn long for a safe, adequate, and stable home for their family. In their application, Rem stated: "I believe that this Habitat housing is my God's given opportunity to get a house."
We are happy to announce that construction has started on their home in Buford. Please follow the progress!