The Jones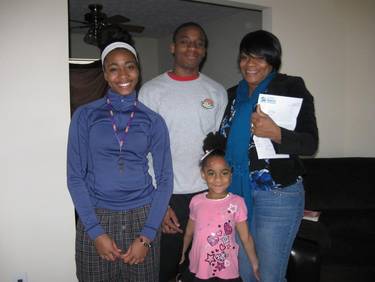 Dominic Jones is about to build a new legacy for herself and her 3 children by breaking her ties with Section 8 housing and becoming a Habitat homeowner. Although Section 8 is rooted in a very committed vision of helping families, to some like Dominic, Section 8 can make one feel defeated. Her family has been living in Section 8 housing for 20 years. She relates that she has always worried about losing the roof over her head, due to the limitations of the Section 8 program.
"I feel as if I've been held back for 20 years because I have had to stay within the income guidelines of Section 8 just to keep a roof over my family's head. I've had so many dreams and aspirations of how to live a successful and prosperous life. I just want to break these chains and be free! Free to thrive and have a career where I am a productive person in society on my own without the fear of not having a decent place to live anymore."
Dominic has 3 children: her son, Khalifah (19), and 2 daughters, Jaytiyah (17) and Roge' (6). She is self-employed as a hair stylist. Dominic is excited about her partnership with Gwinnett Habitat, and believes it will be an important step in her quest for financial stability and improving the quality of life for her family.
"I heard about Gwinnett Habitat, but because I had Section 8, I never saw the need to own a home. However, after maturing both spiritually and mentally, I began to think that all the rent I had paid for 20 years could have gone towards owning my own home! But, better late than never! I was filled with joy when I heard I was selected to become a Gwinnett Habitat Homeowner. It was actually on Valentine's Day, my favorite holiday!"
We will recently dedicated Dominic's new home site on Red Rose Court in Loganville.