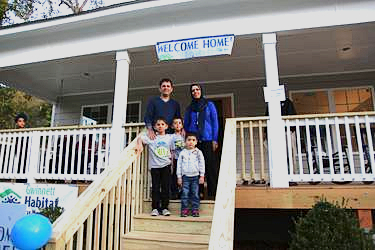 October 2014
Rahmati Family Home Dedication
Meet the lasted members of the Gwinnett Habitat Family, and the recipient of our 125th home.  Wahab and Qudsia Rahmati are immigrants from Afghanistan, having arrived in the U.S. in 2008. As an American Federal contractor, his work requires him to be away from his family for weeks or months at a time, traveling throughout the country working with the U.S. military conducting cultural training. The family formerly resided in a small, 2-bedroom apartment in a very unsafe neighborhood in Clarkston…because of Gwinnett Habitat they are now able to live in a safe environment and participate in the American Dream of homeownership.
On October 23rd their new home was dedicated.  Many came to show their support including special guest Commissioner Jace Brooks, Gwinnett County District One.
Thank you to the many financial sponsors and volunteers that helped to make this home a reality.  Congratulations to the Rahmati family.
GWINNETT COUNTY HABITAT FOR HUMANITY WOULD LIKE TO THANK THE FOLLOWING ORGANIZATIONS AND INDIVIDUALS WHO HAVE HELPED US BUILD THE RAHMATI FAMILY'S HOME:
 
CAREERBUILDER
12STONE CHURCH
WORLD FINANCIAL GROUP
AZZ/WSI NUCLEAR
MCKENDREE UMC
KAWNEER
BARRIE STEELE, PLANT RESCUE OF GA – LANDSCAPING
GLENN DAVIS, A CLASS HYDROSEEDING
HUNTER DOUGLAS – MINI BLINDS
WHIRLPOOL – APPLIANCES
THURSDAY CREW
A BIG THANKS ALSO TO ALL THE FAITHFUL WORKERS WHO CAME OUT ON WORKDAYS - WITHOUT YOUR LOYAL SUPPORT THIS HOME WOULD NOT HAVE BEEN BUILT.