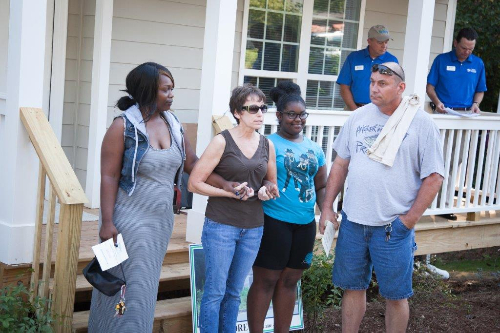 Gwinnett Habitat Dedicates Its 124th Home - Welcome Morgan Family!
On Saturday, September 6 God gave us clear skies and warm weather, which  provided a perfect setting for the Morgan home dedication on Susan Lane.  Shauna Morgan and her daughter Haley, were welcomed into their new home by many neighbors, friends, volunteers, sponsors, and Gwinnett Habitat for Humanity staff. Nearly 50 people gathered on the front lawn of the new house to celebrate this joyous occasion, including District 2 County Commissioner, Lynette Howard who attended to show her support for the work we are doing in Gwinnett County. TV Gwinnett was there to capture it all on video. 
The home on Susan Lane was our 124th build in Gwinnett County. The dedication was a time to celebrate all the love, hard work and support that has been freely given to help the Morgan family achieve their ultimate goal of home ownership.
Susan Lane is also an example of the Habitat Impact In Action!  Blight directly affects our families and our communities. Gwinnett Habitat is having a positive impact on local neighborhoods by taking a blighted property such as the one on Susan Lane, into the light! 
Seeking to put God's love into action, Gwinnett Habitat for Humanity brings people together to build homes, communities and hope. We are fulfilling our mission only through the generous support of our community and people like Edna Schiller who donated the property on Susan Lane. The property formerly housed her parents' home, and Edna had very found memories growing up there. Unfortunately the house burned down several years ago and had been sitting in a blighted condition for some time.  Edna approached Gwinnett Habitat and offered to donate the land so that a new house could be built like a phoenix that obtains new life by rising from the ashes. Edna told the crowd at the dedication that her mother would have been happy to see a deserving family like the Morgans, have a chance at owning their own home and making their own memories.
Gwinnett County Habitat for Humanity would like to that the following organization and individuals who have helped us build the Morgan Family home: 
SPECIAL THANKS TO EDNA SCHILLER - PROPERTY DONATION
THRIVENT FINANCIAL
VIASAT
FIRST UMC OF LAWRENCEVILLE
NORTH GA UNITED METHODIST  HOUSING & HOMELESS COUNCIL
STW TECHNIC LP
ACI WORLDWIDE
BARRIE STEELE, PLANT RESCUE OF GA - LANDSCAPING
TIM McOWEN - BACK PATIO/GRADING
HUNTER DOUGLAS – MINI BLINDS
PROCTER & GAMBLE – GIFT BOX
WHIRLPOOL – APPLIANCES
HOME DEPOT SUWANEE
THURSDAY CREW
Enjoy the dedication pictures.