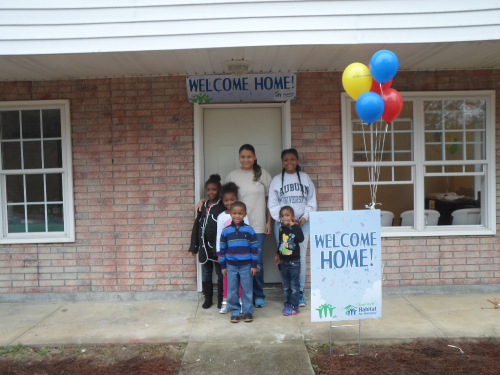 December 6, 2014
Congratulations to the Kemp Family
Carlton Cove, Loganville, GA
Meet our newest Gwinnett Habitat Family!  Tamika is the mother of 5 children:  4 daughters – Shuntia (14), Shaniyan (9), Shanice (8), Shamirah (5) and 1 son – Stephen (4).  Prior to the family's move to Georgia, Tamika worked as a substitute teacher for several years, and now holds a full time position as a parapro at Collins Hill High School.  She has an Associate's degree, and is working to complete her BS in Education in order to become a teacher. 
 "I'm willing to do my very best to improve things for my children.  I know that I may not deserve a second chance because I made really bad choices, but I have changed and what made me change and try harder than ever is looking into my children's faces as we lived from hotel to hotel…I'm just trying to find us somewhere permanent to call a home."
When Tamika applied for Habitat housing, she and her children were residing at Rainbow Village, a transitional housing program.  Tamika eagerly completed the financial literacy training offered at Rainbow Village, and is diligently working to establish the foundation for an improved future for her young family.  She is an engaging, earnest, and hardworking young mother.
GWINNETT COUNTY HABITAT FOR HUMANITY WOULD LIKE TO THANK THE FOLLOWING ORGANIZATIONS AND INDIVIDUALS WHO HAVE HELPED US BUILD THE  KEMP FAMILY'S HOME:
ASSURANT
CISCO
HUNTER DOUGLAS – MINI BLINDS
PROCTER & GAMBLE – GIFT BOX
WHIRLPOOL – APPLIANCES
THURSDAY  WORKCREW
A BIG THANKS ALSO TO ALL THE FAITHFUL WORKERS WHO CAME OUT ON WORKDAYS - WITHOUT YOUR LOYAL SUPPORT THIS HOME WOULD NOT HAVE BEEN BUILT.
Enjoy the pictures from the Kemp Family home dedication that took place on December 6, 2014.