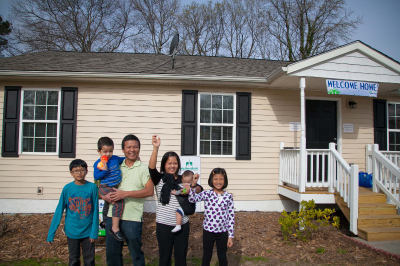 Van's & Helleni's Story
Van Bik is a hard working family man who is employed as a QA Tech.  At the time he applied to become a Gwinnett Habitat homeowner, he was looking to gather his family under one roof.  Together, he and his wife Helleni, have 4 children.  However the two oldest children, a son and a daughter, were living with Van's aunt due to the lack of space in his own apartment.  
"I believe this is my chance to be able to have an affordable, decent and secure home for our family," and he was willing to wait as long as needed to have a chance to make that dream a reality.  Van kept his eye on the prize.  He demonstrated a strong commitment to participating and succeeding in the Habitat program. 
The wait was worth it, and on March 15th, Van's newly reunited family, along with the build sponsors, Gwinnett Habitat staff and board members, participated in the dedication of the Bik family's lovely home.  Congratulations Van and Helleni.
Gwinnett County Habitat for Humanity would like to thank the following organizations who have helped us build the Bik Family home:

CANNON UMC
MCKENDREE UMC
PEACHTREE RIDGE H.S. HABITAT CLUB
ST. MATTHEW'S EPISCOPAL CHURCH
HUNTER DOUGLAS – MINI BLINDS
PROCTER & GAMBLE – GIFT BOX
THURSDAY CREW
WHIRLPOOL – APPLIANCES

A Big Thanks also to all the faithful workers who came out on workdays - without your loyal support this home would not have been built.
Bik Family