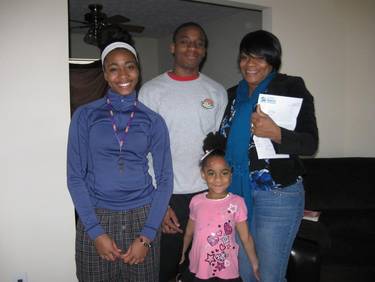 Our Process
Within 30 days after the Applicant Orientation Meeting, you must submit a completed application with all of the necessary documentation.
Next, our Family Selection Committee reviews all applications. The process may take up to two months, and we may ask you for additional information.
If you are not selected to continue, we'll explain our decision. If your circumstances change, you may apply again during the next Selection Cycle. There is no limit to the number of times you may apply.
 If you meet our financial qualifications, we'll schedule a home visit with you and all your household members. Two Habitat representatives will interview you, view your current housing conditions, meet your family, discuss any questions, and review the program requirements.
Once the home visits have been completed, the Selection Committee meets to review the results of the home visits and makes its recommendations to our Board of Directors for final approval of the applicants. This stage may take one to two months, and you'll be notified by mail of the Board's decision.
If your application is accepted you'll attend our New Homeowners' Orientation, sign an official letter of acceptance, review program requirements, and start working on a build site – on your way to a new home!
Click here to receive information about homeownership and be added to our list for 2018 homeowner orientation. Thank you for your interest.